Making stationary for sale means you have to start preparing holiday cards months ahead. By the time December arrives, you might just want to sit back with a warm whiskey drink and enjoy. But first there are a pile of holiday sales to attend. I was at
Bazaar Bizarre
a few weeks ago with the San Francisco Center for the Book. Then I had my own things for sale at the intern's table SFCB's holiday sale, along with my fellow intern, Jeff Shepard. And just this week I was at Renegade Craft Fair with Dutch Door Press. I am almost ready for that drink. But first I have some holiday gifts to make. Since I can't show you those, I will share with you what I am excited about today.
My subscription for the Oxford American ran out just before the Louisiana Music issue was released. After some hassles with the credit card company, it is in the mail and on its way. Possibly in time for a homesick Christmas Eve.
I have been following
Geninne's Art Blog
for about a year. I download her free desktop calendar every month for a bit of loveliness every time I turn on the computer. Also, changing my desktop format every month means I have to reorganize monthly.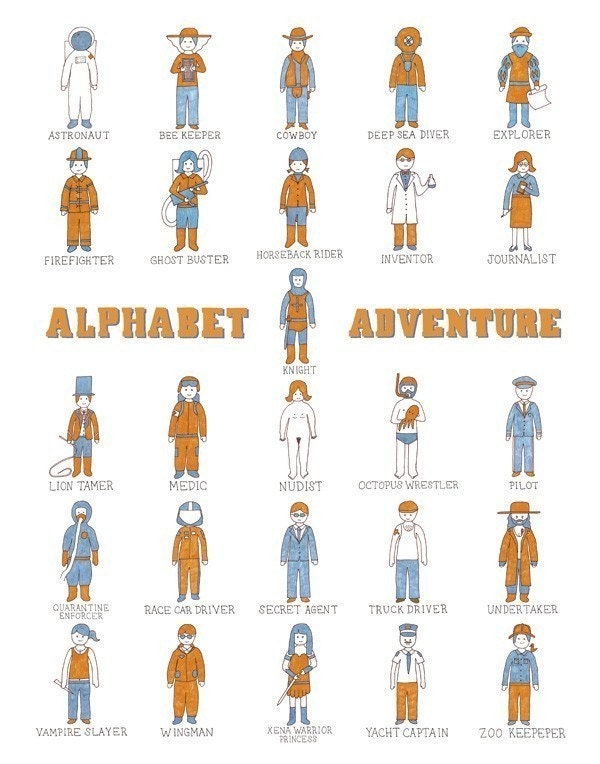 One of my favorite booths at Renegade Craft fair was Small Adventure. Their illustrations are adorable and this poster of adventurous careers was one of many things I eyed all weekend, trying to think about who might want this for Christmas. I do!
That drink is coming, by the way, when Greg Reed gets here Wednesday night to tell stories of his farm. Then Ben and I hit the press room to start loving the lonely Vandercook we keep in the gargage.